All-New Porsche Taycan in Warrington, PA
Go Full-Electric in the New Porsche Taycan
There is no doubt that electric cars and the technology that supports them have come a long way since their early advent. At one time, electric cars were seen as clunky, weak vehicles with little capability or range. The good news is, the new 2020 Porsche Taycan turns these notions on their heads. Even though this vehicle is electric from head to toe, it is still all Porsche. As such, it brings to the table all the panache, power, handling, and luxury that the brand is famous for. Willow Grove and Huntingdon Valley drivers who love the exhilaration of high-performance driving will come to appreciate the many facets of the 2020 Porsche Taycan.
Enjoy a Multitude of Features in the 2020 Porsche Taycan
The new 2020 Porsche Taycan roadster brings the best of both worlds to Doylestown drivers and passengers who appreciate a seamless blend between performance and zero emissions. The Taycan family of vehicles comes in three trims, each offering escalating levels of power. Unlike some other so-called all-electric vehicles, the Taycan has electric motors that power all four wheels. That's not all, because it also blends this performance with the capability to go hundreds of miles between recharging.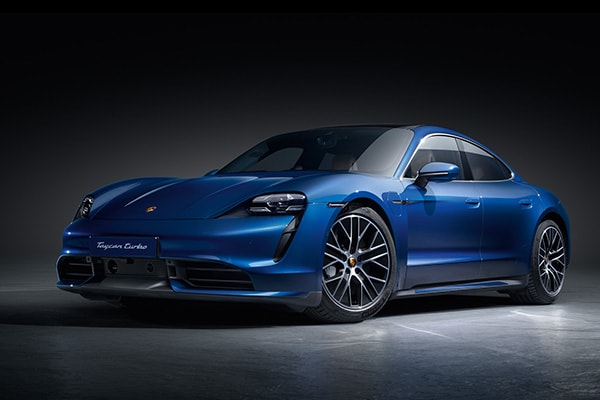 Taycan Trim Levels
4S - This vehicle represents the introductory trim level of the 2020 Porsche Taycan family. This athletic vehicle puts out more horsepower and torque than a wide variety of gas-powered compatriots.
Turbo - This is the number two Taycan trim, and it comes equipped with full-blooded sportscar capability. An example of this track-ready attitude is its ability to snap from zero to 60 mph in a mere 3.2 seconds.
Turbo S - The top dog trim level is a beast off the line with a power output of over 750 horsepower. This makes it one of the fastest cars on the road, whether gas or electric powered. Plus, it also has an extra ace up its sleeve with the proprietary Launch Control system.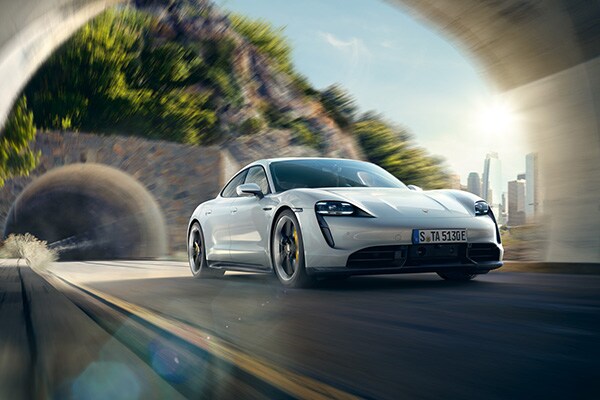 Experience Specialized Porsche Taycan Performance
Porsche vehicles are well known for their athletic stances, racecar handling, and pavement tearing power. The new Taycan faithfully continues this tradition, and it includes proprietary technologies that give it wings. Its design includes a pair of permanent-magnet synchronous motors that are capable of delivering eye-popping levels of torque. Indeed, when placed in Launch Control Mode with Overboost power, the new Taycan is capable of accelerating at over 1.2-Gs for a short distance. This level of acceleration actually equals or exceeds the force of gravity for short periods of time. That's not all, because even though these motors are quite powerful, they're also capable of going long distances between recharges. These motors can travel 200-miles between charges, making them good choices for longer journeys.
Battery output is just the beginning because the 2020 Porsche Taycan also includes a specialized 800-watt electrical infrastructure. This is double the size of the electrical infrastructure of most other electric vehicles, and this feature comes with many important perks. An example of such a benefit is the ability of the Taycan to recharge in just hours under the right circumstances. Coupled with its prodigious mileage range, this makes it a shoo-in for everyday travel.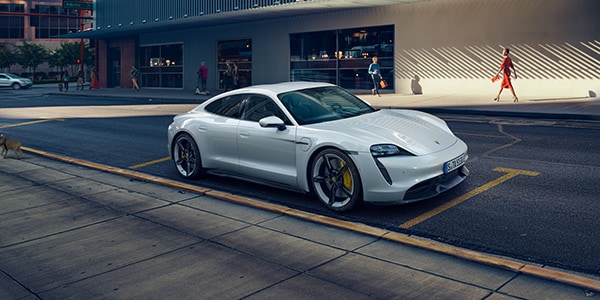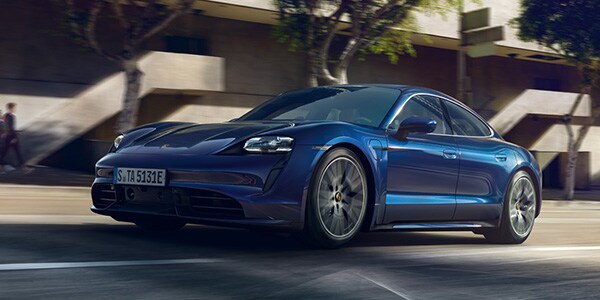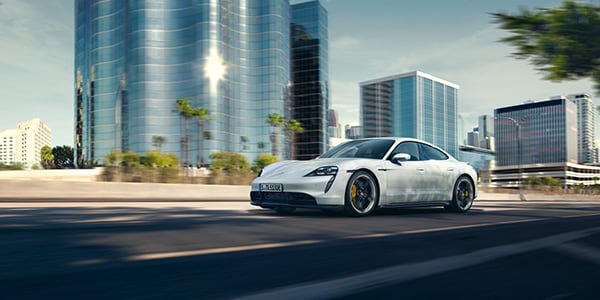 2020 Taycan Safety and Technology
The safety system inside the new Porsche Taycan is just as impressive as its emission-less, racecar motor. It has active safety features that include driver awareness and backup systems that can reduce the likelihood of accidents. One such system is the Porsche Active Lane Keep service.
When operating on roads with visible lane markings, this system works hand-in-hand with the Adaptive Cruise Control technology to keep the vehicle in line. Plus, the Adaptive Cruise Control can perform important functions such as maintaining set distances and speeds without driver intervention.
Another interesting and proprietary Porsche driver technology is Night Vision Assist. During extremely dark driving conditions, Night Vision Assist can help Warminster and Newtown PA drivers detect living creatures such as large animals or people. It is an extra level of awareness that can help prevent serious accidents.
Porsche Taycan Frequently Asked Questions
How fast is Porsche Taycan? Plenty fast. It is a Porsche, after all. This all-electric and all-wheel drive performer gives drivers a charge by producing as much as 616 horsepower. The Taycan Turbo S trim is capable of hitting a top speed of 162 miles per hour. It takes over the straightaways with a zero-to-60 time of 2.4 seconds. The slowest Taycan available is the base 4S, and its no slouch itself. It blasts off at 155 mph on the open roads.
Is Porsche Taycan self-driving? To an extent. The Porsche hasn't entirely installed the space-age technology to have the Taycan drive by itself. But it comes loaded with autonomous driving features to make your morning commute even easier for you. The Taycan does have the Porsche Autopilot system, which means it is equipped with Adaptive Cruise Control, Active Braking and Accelerating, among other driver-assist features. That technology helps you relax when you hit the streets of Philadelphia and Newtown, but still require you to have your hands on the wheel and be aware of your surroundings.
Is the Porsche Taycan fully electric? Absolutely. The Porsche Taycan is Porsche's first-ever fully electric car. Two electric motors are strategically situated on the Taycan, along with a potent 93.4 kWh 800-volt battery, to help generate its power. A two-speed transmission improves its efficiency and power. It gets you farther than your typical vehicle. With an EPA-estimated 69 MPGe for the Turbo and 68 MPGe for the Turbo S, you can go farther between charges.
Why is the Taycan called a Turbo? Though the engines aren't technically turbocharged, it can be slight confusion to call the Taycan Turbo. However, when you describe something as "turbo," you bring the idea of something quick and powerful. That describes the Taycan. Porsche uses the Turbo name to differentiate itself as a high-performance version of the electric cars you may be familiar with.
Interested in learning more about the new Porsche Taycan?
Stop by or Contact Porsche Warrington!
Here at Porsche Warrington, our team of professionals is excited to work with drivers to find a Porsche model that meets drivers' needs! Whether you're considering preordering the new Porsche Taycan or you're thinking another Porsche model is more fitting to your needs, our team of professionals is ready to help! Have a few finance questions? Look to our in-house finance team for assistance! Want to check out our latest inventory in person? Our sales and can help! Or, if you already own a Porsche and are looking for service assistance, our service and parts technicians can help! Options abound at Porsche Warrington! Stop by or contact the Porsche Warrington team to learn more about preordering a new Porsche Taycan model today!
Schedule A 2020 Taycan Test Drive!